"I was hesitant as my kids have never stayed at a hostel before, but when we first parked the car and I saw children running around, I had a feeling it would work out fine. Fine, it did! The self-catering kitchen was a great hangout place for the family and to make a simple meal. At first, my teenage son was disappointed that the free wifi did not extend to the bedroom, but the kids made up their own games and it turned out to be one of the best nights we had as a family."

August 2019
Wedding Celebrations
We are not taking any further bookings for summer wedding weekends in 2022, 2023 and 2024, but please do get in touch if you would like to book the hostel during the months of November, December, January & February.
Derwentwater Independent Hostel is a special and unique place at which to create your own bespoke celebration, coming together with family and friends, to mark your special day. And the best thing about about a hostel wedding celebration weekend is the relaxed time to spend together in beautiful and memorable surroundings.
Download Our Wedding celebration Weekend Guide
We tend to offer two different types of wedding celebration events:
An Indoor Event for Up To 65 Guests
A smaller event, for up to 65 guests, using the hostel dining room as the main reception room, with the hostel providing full catering and bar services. Our dining room can comfortably seat up to 65 guests, and we can quickly clear the room for a party. You can decorate it as you wish! This option is available all year round.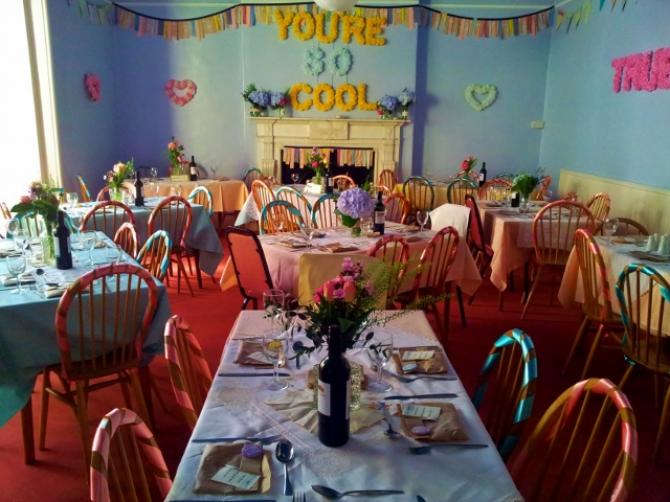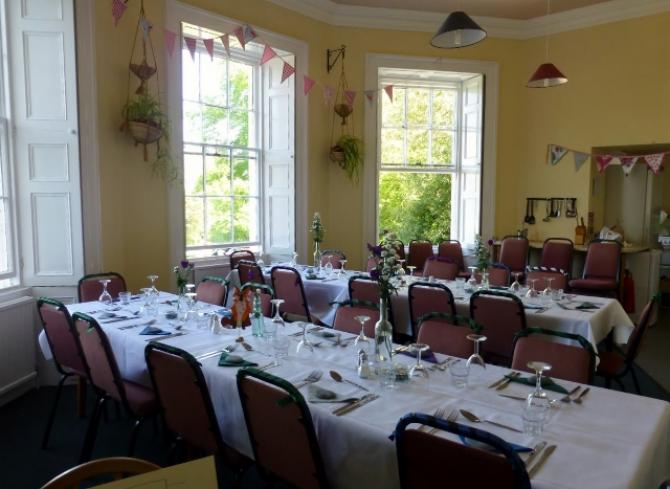 The dining room (left) can seat about 65 and the self-catering kitchen (right) can seat about 25.

A Large Outdoor Event with a Marquee or Tipis on the Lawn
A larger outdoor event, for up to 120 guests, using a marquee or tipi on the lawn, with outside caterers of your choice providing a celebration meal in the marquee, and the hostel providing Bed & Breakfast for up to 88 guests. We can provide a bar in the marquee or the hostel. Outdoor wedding celebration events are available in May, June, July, August & September.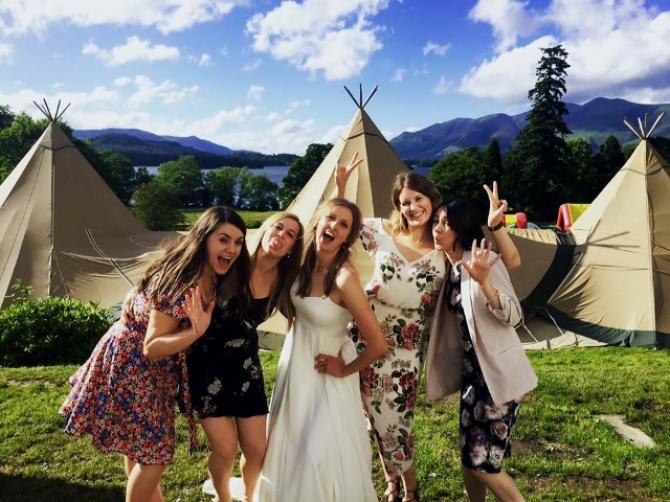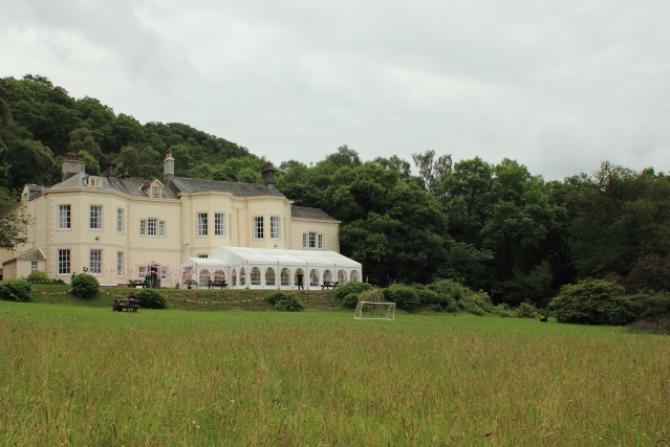 Tipis on the lawn, and marquees on the terrace or the lawn: lots of options!
Think of the hostel as blank canvas on which you can organise your own special weekend.
We always recommend visiting the hostel, in advance of making a provisional booking, to talk through your plans. Contact Tim Butcher, Hostel Manager by email at reception@derwentwater.org or on 017687 77246 to arrange a convenient time to look around the hostel.
A few more details
Our exclusive hire price is per night, for the whole hostel, rather than per person. Any meals are then charged per person, on top of the hostel hire price. We can also provide a bar. We are a licensed premises and so have to ask guests not to bring their own alcoholic drinks onto the premises. The hostel hire for wedding celebrations includes:
Overnight hostel accommodation for up to 86 people (minimum 2 night stay)
Exclusive use of the hostel from midday on arrival to 10am on day of departure
Use of the grounds to pitch a marquee or tipi, for up to 120 guests
30 amp electrical connection for marquee/tipi, suitable for lighting and music
Temporary event notice to enable outside entertainment
Hostel staff will be present on site throughout your stay